PK3 (DIN 13157 x 2):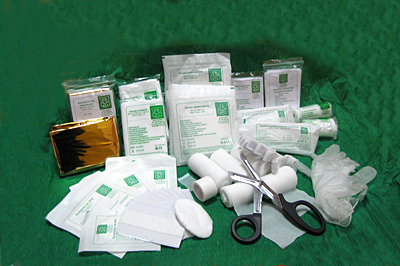 1 ADHESIVE DRESSING 6x10cm 16pcs
2 ADHESIVE TAPE 5mx2,5cm 2pcs
3 ELASTIC BANDAGE 4mx6cm 4pcs
4 ELASTIC BANDAGE 4mx8cm 4pcs
5 VINYL GLOVES 8pcs/4 pairs
6 BURN DRESSING 60x80cm 2pcs
7 FIRST AID DRESSING 6x8cm 2pcs
8 FIRST AID DRESSING 8x10cm 6pcs
9 FIRST AID DRESSING 10x12cm 2pcs
10 WOUND COMPRESS 10x10cm 12pcs/6 packages
11 TRIANGULAR BANDAGE 96x96x136 cm 4pcs
12 FIRST AID BLANKET 2pcs
13 SCISSORS 2pcs
14 FLEECE 20x30cm 10pcs/2package
15 INSTANT ICE PACK 2pcs
16 EYE COMPRESS 5x7,5cm 4pcs/2package
17 DISPOSABLE BAG 4pcs
18 PLASTER SET 40pcs
19 FIRST AID INSTRUCTION 1pc



The company PK-MOT existed for over 25 years.
Our company has become a leader in this industry in Poland. The plant is in Hungarians - 80 kilometers from Warsaw. Easily accessible, high quality services, and high production capabilities have made us a stable and dynamically developing enterprise.