DIN 13164: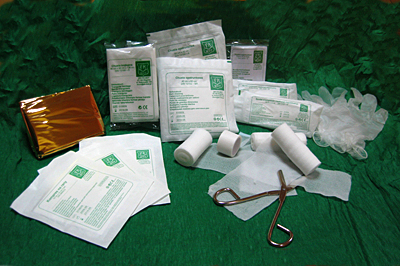 - Adhesive tape 5m x 2,5cm 1pc
- Plaster set 14pcs
- First aid dressing 6x8cm 1pc
- First aid dressing 8x10cm 2pcs
- First aid dressing 10x12cm 1pc
- Cleansing wipe 2pcs
- Burn dressing 40x60cm 1pc
- Burn dressing 60x80cm 1pc
- Wound compress 10x10cm 6pcs
- Elastic bandage 6x400cm 2pcs
- Elastic bandage 8x400cm 3pcs
- Triangular bandage 96x96x136cm 2pcs
- First aid blanket 160x210cm 1pc
- Scissors 1pc
- Vinyl gloves 4pcs/2 pairs
- First aid instruction 1pc



The company PK-MOT existed for over 25 years.
Our company has become a leader in this industry in Poland. The plant is in Hungarians - 80 kilometers from Warsaw. Easily accessible, high quality services, and high production capabilities have made us a stable and dynamically developing enterprise.